NEPAL
Project SANKALPA-Empowering Stakeholders, Raising Awareness and Protecting Children from Early and Forced Marriage 
PROJECT AREA 
2 provinces of Western Nepal:
Province 5, Bardiya District, Badiyatar Rural Municipality, Wards 1, 4 & 5
Province 6, Dailekh District, Dullu Rural Municipality, Wards 6,7 & 8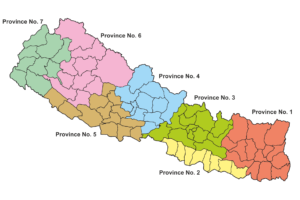 PROJECT PERIOD 
March 2020 –  December 2022
CONTEXT 
In Nepal, the legal age of marriage is set at 20 years, however, according to Unicef, Nepal has the 17th highest prevalence rate of child marriage in the world. 36,6% of Nepalese girls are married before they're 18 and 10,4% are married before they reach 15. Median ages for first marriage are lowest in Provinces 2, 5 and 6 where the project intervenes. The harmful practice of child marriage is especially prevalent in more vulnerable communities in the Terai due to poverty, social exclusion and unawareness of the legal framework of child marriage.
In March 2016, the Nepal government held a national "Girl Summit" in Kathmandu and set a goal to end child marriage by 2030. It aims to achieve this goal by developing a National Strategy to End Child Marriage that will be the basis for a National Plan of Action to End Child Marriage.
OBJECTIVES
Key stakeholders (children, families, communities, duty bearers) empowered, sensitized and mobilised to report and respond to early and forced marriage in Bardiya and Dailekh districts.

The project intervenes in 3 different areas.
It plans to strengthen the capacity of key actors, such as community-based structures, parents and families, children, police force and private sector enterprises in information and communication. An inclusive training program is planned for technical capacity building of the partner organizations. Studies and researches on the specific issue of sexual exploitation of children are to obtain a baseline and end line information, and a better understanding of the practice of early and forced marriage in the project area. Awareness raising activities cross-cut all interventions and cover all actors targeted by the project.
Protection of children against early and forced marriage will be ensured through lobbying and advocacy on prevention and protection of children against risks of sexual abuse and exploitation in general;  inclusion of comprehensive provisions of protection for child victims of sexual abuse in the National Action Plan; creation of mechanisms of identification, investigation and prosecution against sexual offenders; developing alliances and networks to strengthen prevention, coordination, investigation and the development of operational guidelines for effective rehabilitation and reintegration of child victims.
The project also aims to directly support victims through rescue and provision of adequate and comprehensive services including medical and psychosocial assistance, support for social and economic reintegration of child victims and families of victims as well as legal aid for prosecution of offenders.
PARTNERS
Aawaaj Breaking The Silence
BENEFICIAIRIES
Primary Beneficiaries
Children from the six Wards in Bardia and Dailekh Districts
Children from poor and marginalized groups – Dalits (untouchables), Madhesis and Janjatis
Secondary Beneficiaries
Family of children
Dalits, Madhesis and Janjati communities
Local governments
Community and religious leaders
Discover other closed projects in Southeast Asia :
Nepal
Bangladesh
---