Nepal :
Protection of children at risk of sexual exploitation in eastern Nepal
Location
Itahari, Sunsari (Border Districts of India in Eastern Nepal)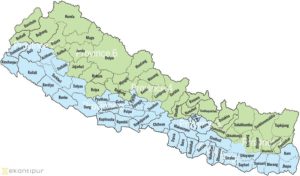 Duration
July 2018 – December 2019
Context
Itahari is the largest metropolis in southeast Nepal. It is located at the main transport junction of eastern Nepal, 30 kilometres from Jogbani on the border of Nepal and India. It is at the centre of the Mahendra East-West and North-South Koshi highways and is therefore a city of emerging importance.
Recently, with its growing urban infrastructure and population growth, Itahari has also gained a reputation as a prostitution hub in the eastern part of the country. [1] The approximately 450 hotels, lodges and restaurants accommodate more than 700 people in prostitution between the ages of 14 and 60, according to the police. Given the proximity of the city to the Nepal-India border, Itahari's sad reputation attracts customers from as far away as Patna in India.
It is therefore urgent to develop action to protect children against sexual exploitation in all its forms, which could also be developed on the spot.
Project Objective
Protecting children at risk of sexual exploitation in this region of eastern Nepal
Expected Results
Sexually exploited children are saved from exploitation.
These children are rehabilitated and reintegrated through the project.
Children of persons involved in prostitution receive special support so that they can leave their environment vulnerable to sexual exploitation.
Coordination and referral mechanisms based on concrete results are developed to ensure the sustainable rehabilitation and reintegration of vulnerable children
Organisations and their staff are strengthened for effective project implementation.
Target Groups
Children and young girls working in the adult entertainment sector Families and communities
Child protection actors, including organizations working in prevention
Direct Beneficiaries 
30 children sexually exploited maintain access services at the Crisis Response Center (trauma informed health care, legal aid and psycho social support)
20 children receive vocational training
30 children receive support for schooling
25 children receive a birth certificate and other documents necessary for their official identification.
20 children return to their families.
10 mothers with their children receive financial support and leave prostitution.
5 extremely poor families with children are reintegrated economically through income-generating activities.
Budget
73,000 Euros.
Local Partner
Shramik Mahila Sanja Manch Nepal (SHRAMAUSA)
Institutional Partner
Ministère des Affaires Étrangères et Européennes du Luxembourg
Facts
Child labour (2009-2015): 37% [2]
Girls in child labour (2009-2015): 38% [3]
Estimated number of victims of trafficking in 2015-2016: 6100 [4]
Estimated number of trafficking attempts: 13,600. Of which 98% are women and 50% are children under 18 years of age [5]
Number of missing children in 2015-2016: 1502 children, 60% of them girls [6].
[1] The Kathmandu Post Editorial.  July 16, 2014.  A case of morals.  http://kathmandupost.ekantipur.com/news/2014-07-16/a-case-of-morals.html
[2] UNICEF, State of the World's Children, 2016, p151
[3] Ib.
[4] National Human Rights Council, Trafficking in Persons, National Report 2015-2015, Nepal, June 2017, page 13
[5] National Human Rights Council, Trafficking in Persons, National Report 2015-2015, Nepal, June 2017, page 14
[6] National Human Rights Council, Trafficking in Persons, National Report 2015-2015, Nepal, June 2017, page 16
.