INDIA, NEPAL, BANGLADESH 
Mukti II : Anti-trafficking of children and girls for sexual exploitation in source-destination countries in South Asia
PROJECT AREA 
India (Goa, West Bengal ,Manipur, Maharashtra, Delhi )
Nepal
Bangladesh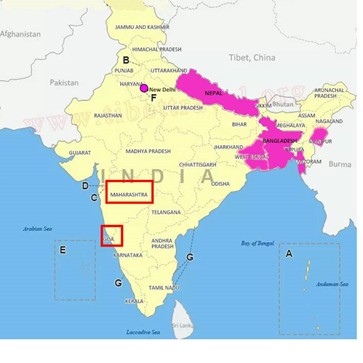 PROJECT PERIOD
January 2020 to December 2022
CONTEXT 
Phase I of Project MUKTI in India produced significant impact-led results with meaningful partnerships between source and destination partners within the country. MUKTI II intends to safeguard the investments and impact of MUKTI I, capitalize on the base that has been created during the implementation of this project and extend it to include transborder destinations, Bangladesh and Nepal, where significant cases of trafficking originates and girls end up in various major cities of India and significantly, to Goa. MUKTI II is evidence informed, and the choice of proposed working areas, namely the states of Maharashtra, West Bengal, Manipur and Delhi, and the main source countries Bangladesh and Nepal, is informed by findings of a recent study published in 2019 by ARZ, a nodal NGO working against trafficking in Goa [1] and ECPAT Luxembourg's partner in the state.
OBJECTIVES
Strengthen efforts of governments and civil society of India, Nepal and Bangladesh to respond to the problem of trafficking of children and girls for sexual exploitation.

PROJECT ACTIVITIES
Provide direct assistance to victims
Raise awareness on trafficking of children and girls for sexual exploitation and sexual abuse of children
Strengthen capacity of service providers
Strengthen community services and systems of child protection
BENEFICIARIES
Children, youth and victims, rescued or vulnerable to internal and cross-border trafficking.
State actors: police, border security force, lawyers and magistrates, state protection home personnel.
PARTNERS
ARZ (Anyay Rahit Zindagi ), India
FXBIS (FXB India Suraksha), India
Shakti Samuha, Nepal
Ministry of Foreign and European Affairs of Luxembourg
The Fondation Juniclair
Discover other closed projects in Southeast Asia :
Nepal
ECPAT – Nepal – Online ;ECPAT – Nepal – Trafficking – East ; ECPAT – Népal – Trafficking – Pokhara ; ECPAT – NEPAL – Emergency ; ECPAT – Nepal 2 : Information and awareness of a broad public, prevention and protection of vulnerable children and/or victims.
Bangladesh
ECPAT – Bangladesh : Reintegration of children who are victims or vulnerable to or who have survived trafficking and sexual exploitation
---
[1] https://www.arzindia.org/docs/Trafficking-of-Women-&-Children-for-Commercial-Sexual-Exploitation-(CSE)-in-Goa-A-STATISTICAL-ANALYSIS-(2014-TO-2019).pdf