MALI
Combating the trafficking of children for sexual purposes at the Kokoyo and Koflatié gold sites in the Kangaba Circle in Mali
LOCATION
The areas of intervention are in the Circle of Kangaba, on the gold sites of Kokoyo and Koflatié of the municipalities of Nouga and Kaniogo and the villages of Danga and Tombola in the commune of Nouga and the villages of Tegué and Sombo in the commune of Kaniogo.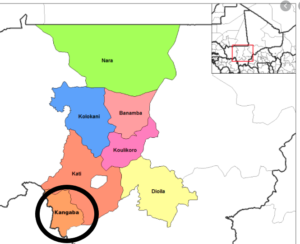 DURATION
April1, 2020 – December 31, 2022
CONTEXT
The sexual exploitation of children in Mali is confirmed by two studies carried out by ECPAT Luxembourg. The results of the quantitative and qualitative study on child sexual exploitation in Mali in 2014 show that 28.2% of children were victims of sexual exploitation, including 11.7% of child victims of prostitution, 9.3% of children victims of child sex tourism (TSIE), and 7.2% of children trafficked for sexual purposes. The results of the second study conducted in October 2019 at two gold sites in the Kangaba Circle also attest to children who are victims of prostitution and sex trafficking.
Out of a sample of 386 children surveyed, 46.3% had sex, of which 78.2% had a quid pro quo (sexual abuse in exchange for in-kind or cash consideration) and 21.8% by coercion (moral or physical).
Although Mali has ratified a large number of international and regional conventions/agreements (CDE, Palermo Protocol, Optional Protocol on the Sale of Children, Child Prostitution and Child Pornography, African Charter of the Rights and Welfare of the African Child, Regional Cooperation Agreements on Trafficking in Persons and Women and Children in particular and ILO Conventions 182 and 138) the fact remains that the sexual exploitation of children remains a reality of gross violation of children's rights.
OBJECTIVES 
The project aims to reduce the number of children suspected and trafficked for sexual purposes through prevention, protection and rehabilitation.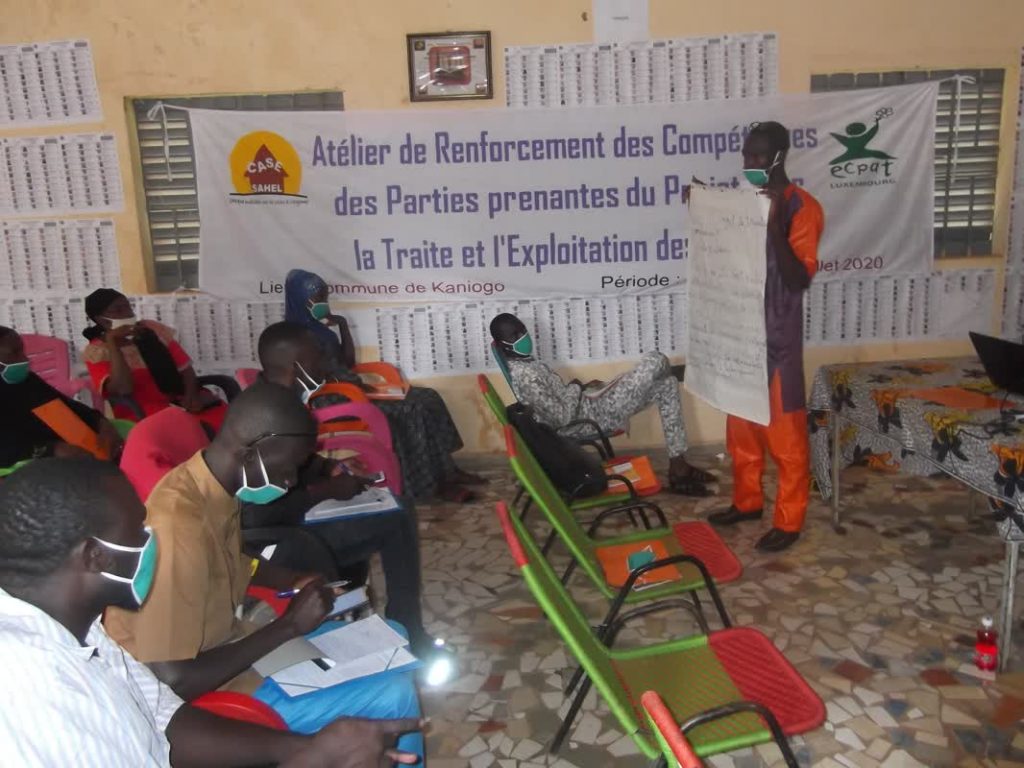 PROJECT ACTIVITIES 
1) The education pair: For prevention at the child level, it is about training children in the education and self-protection pair to sexual exploitation. These children will in turn raise awareness among their peers through "child for child" talk groups.
2) Community participation: The establishment of the Community Committees for the Protection of the Child, made up of volunteers from the communities, the technical services of the state, the municipal elected representatives, the tomboloma, etc.). Enhanced CCPE members on child protection and child sex trafficking will in turn lead community outreach sessions.
3-4) Case management: Children identified at gold sites through psychosocial interviews are referred to reception centres for medical, psychosocial, health, accommodation, clothing, food and reintegration measures and economic, school and professional reintegration.
5) Advocacy: CCPEs are strengthened to conduct advocacy. They will plead with the municipal authorities to take into account measures to protect children from sex trafficking in the municipalities of Nouga and Kaniogo.
PARTNERS 
The project is being implemented by three National NGOs and associations in Mali, including CASE SAHEL, ENDA Mali/RAO and ACESEM. Partners CASE SAHEL and ENDA MALI/RAO are members of the National Committee to Coordinate the Fight against Trafficking in Persons and Related Practices in Mali. They intervene on human trafficking issues, including trafficking involving children and women. ACESEM works on the sexual exploitation of children; prostitution, sexual abuse, early/forced marriage.
CASE SAHEL (Community Agriculture Health Education in the Sahel).
ACESEM (Association Against the Sexual Exploitation of Children in Mali)
ENDA MALI/RAO Enda Mali: (Mali Environment and Development/West Africa Network for the Protection of Children)
DIRECT BENEFICIAIRIES
Children at the two Kokoyo and Koflatié gold sites
Children from four villages (Danga, Tombola, Tégué and Sombo) around the two gold sites of Kokoyo and Koflatié.
Discover our other closed projects in West Africa :
ECPAT – West Africa ; ECPAT – Niger ; ECPAT – Senegal ; ECPAT – Mali
---