"Dis moi qui tu es." The comic book that educates children about online sexual violence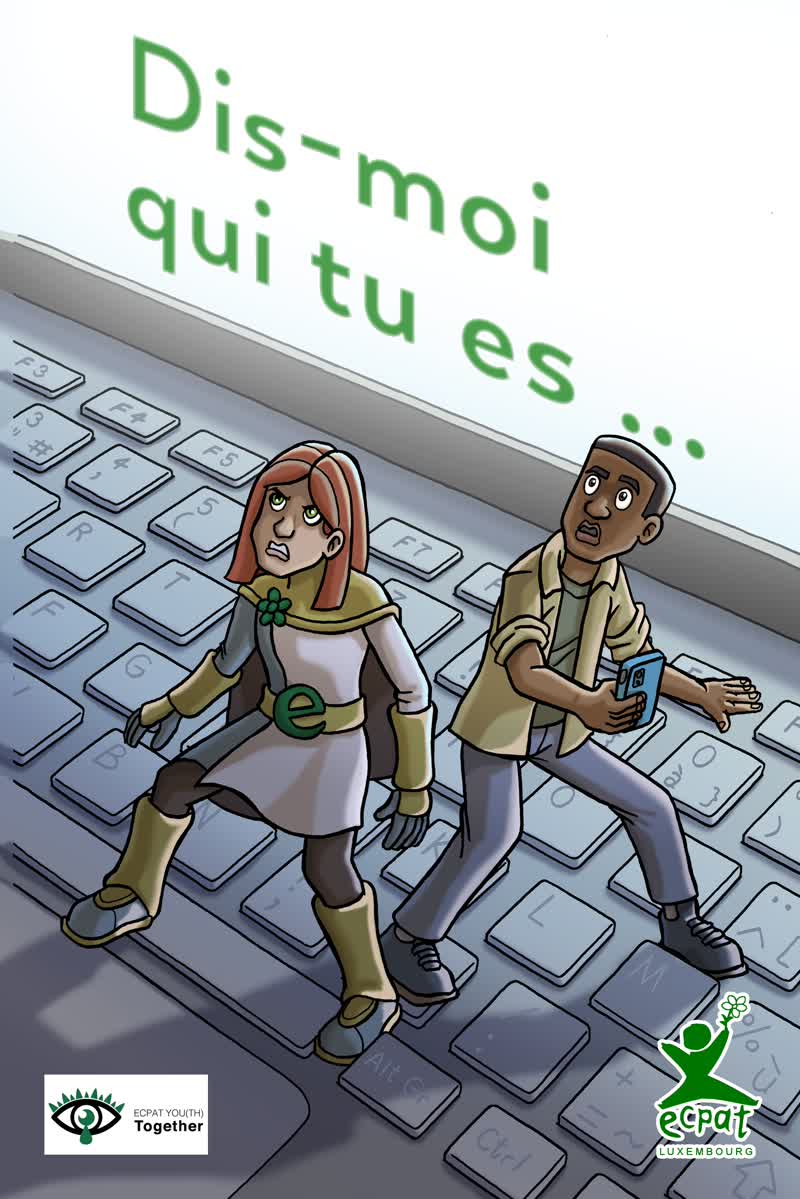 Publié le 8 February 2022
View the comic in pdf here (in German/ in French) or read it online below.
« Together for a better Internet » –

That's the slogan we're celebrating today on Safer Internet Day 2022,Safer Internet Day 2022 a global event to raise awareness about the risks young people face online.
Among these hazards are the " sexting" that goes wrong: with our young people who send each other explicit sexual images in privacy and which are then published and shared without their consent, or the " grooming": with those adults who, through manipulation or blackmail, entice young people to send them images or ask them for other sexual favors.
These dangers are actually new forms of sexual exploitation that we see with the advent of technology and from which children must be protected at all costs.
As an NGO working in the fight against sexual exploitation for the past 20 years, ECPAT Luxembourg wanted to mobilize its youth group "Ecpat Youth Together" around a project to create a comic book to raise awareness and encourage open discussion around online sexual violence.
The Comic « Dis-moi qui tu es…»
After the success of the first edition "Envoie moi une photo" (German version here) which was nominated for the best youth projects of Luxembourg (Jugendpräis), ECPAT Luxembourg launches today the comic book "Dis moi qui tu es…".
We find our friends from the first volume with the protagonist who was the victim of a sexting that went wrong. This time she takes on the role of a superhero who comes to the aid of her classmate, who is exchanging messages with someone he doesn't know, and is in danger of becoming a victim of grooming.
Andy Genen, a cartoonist who co-wrote the script with the youth of ECPAT Youth Together, spoke about this very current theme:
"In addition to all the advantages and benefits that the Internet and social networks can bring us, we are unfortunately also exposed to certain dangers that can result from them, including sexting, grooming and many other online harassments.

That's why this ECPAT Luxembourg comic book project is very important to me, and I hope that it can help inform and warn young people, as well as their parents, of the existence of some of these dangers and how to deal with them in case one is confronted with them, or better yet, take precautions to minimize the risk of becoming a victim.

I was very happy to be able to collaborate with the youth of ECPAT You(th) Together in the development of these strips drawn. It allowed me to see the issue through their eyes and I hope it made the comics even more relevant to how young people perceive the world around them.
It is therefore a matter of accompanying children in their self-protection, while encouraging an open discourse between young people and adults around online sexual violence. The comic book, available in German and French, is aimed at young people as well as adults, for private use or for professionals (schools, homes, nursing homes, practices, etc.). It raises awareness of grooming with concrete approaches and relevant support services to turn to in order to help those who might find themselves in such a situation.
ECPAT Luxembourg also offers workshops in schools on comics and online dangers, and will accompany the launch of the comic with an educational kit that will be released very soon. Contact us if you are interested in a workshop at: info@ecpat.lu
Order for free:
For schools, homes, halfway houses (large quantity – sent by mail);
For private use; (small quantity – please pick them up at the office)
Please specify it at this e-mail address: info@ecpat.lu
Check out the comic book online:
French version
German version
About ECPAT Luxembourg
ECPAT Luxembourg is a Luxembourg NGO that fights for a world without sexual exploitation of children and runs projects in several countries in West Africa and Asia. In Luxembourg, the NGO develops awareness and advocacy projects.