Burkina Faso:
Children's participation in Africa for a network to combat the sexual exploitation of children (PARLE)
Localisation
In Burkina Faso, municipalities of Ouagadougou (capital) and Fada (Eastern Region of the country)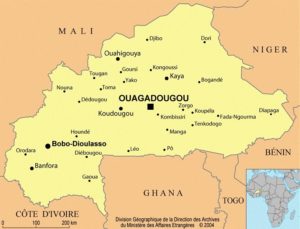 Duration
January 2018-December 2019
Context
Burkina Faso is one of the poorest countries in the world and in 2015, the United Nations Development Programme ranked the country 185th out of 188 countries in terms of the Human Development Index (HDI).
Due to the high level of poverty in Burkina Faso, children are increasingly at risk of sexual exploitation. However, few preventive measures are developed by the government to curb child prostitution, the sale of children, child trafficking and child pornography. Nor is the sexual exploitation of children in tourism the subject of preventive measures. Psychosocial care for child victims of sexual exploitation or trafficking is provided by civil society or public service structures, but the services offered do not specifically address the needs of child victims of sexual exploitation. In 2013, the Committee on the Rights of the Child recommended that Burkina Faso intensify the implementation of its legislation, improve its coordination, and adopt action programmes on the exploitation of children. The Human Rights Committee reiterated recommendations on trafficking in 2016 and the Committee on the Elimination of Discrimination against Women on early marriage, trafficking and exploitation in prostitution.
The project is part of a multi-country project where programmes are implemented in ten countries in sub-Saharan Africa with activities adapted in each country according to the experience, history and alliances identified in the latter.
Objective
Realize the right of children to live free from all forms of sexual exploitation
Expected Results
Victims/survivors of sexual exploitation are provided with appropriate services for their effective and sustainable reintegration
Children acquire the knowledge and reflexes to protect themselves
Protection actors know how to respond effectively to children's needs in the face of sexual exploitation
Knowledge and recommendations on the sexual exploitation of children are produced and shared to inform public policy
Policy makers, protection actors and the general public are mobilized around the issue of sexual exploitation and advance policies, legislation or programmes to combat the sexual exploitation of children
Target Groups
Children and/or young people at risk or victims of sexual exploitation
Families and communities
Actors involved in child protection and their structures
Political decision-makers
Beneficiaries
1950 Children and/or young people at risk or victims of sexual exploitation, among whom:
1000 Identified children
150    Children in the process of reintegration
1080 Children trained in self-protection
600    Children sensitized
2260 Homes: parents, guardians, and community and community leaders:
960 Via educational chat
1200 Forum Theatre
100 Community Actors
Facts
Legal age for marriage: 20 years for men, 17 years for girls
Convention on the Rights of the Child: signed and ratified in 1990
Child labour (2010-2016): 39%.
Early marriage (2010-2017), married before 15 years of age: 10%.
Early marriage (2010-2017), married before 18 years of age: 52%
Budget 
162,500 EUROS
Implementing Partners

KEOOGO , partner from Burkina : http://www.keoogo.bf/
ECPAT France : https://ecpat-france.fr/
ECPAT International : http://www.ecpat.org
RISE Learning Network : https://riselearningnetwork.org/
Institutional Partner
Ministère des Affaires Étrangères et Européennes de Luxembourg : https://www.mae.lu
Agence Française du Développement : https://www.afd.fr